Sayol Co. (P.J.S.)
Sayol Construction Company was established in 1980 and it is more than three decades that it has been active in implementing projects including operations of buildings and establishment of major hospital and industrial projects, office-commercial towers and residential buildings.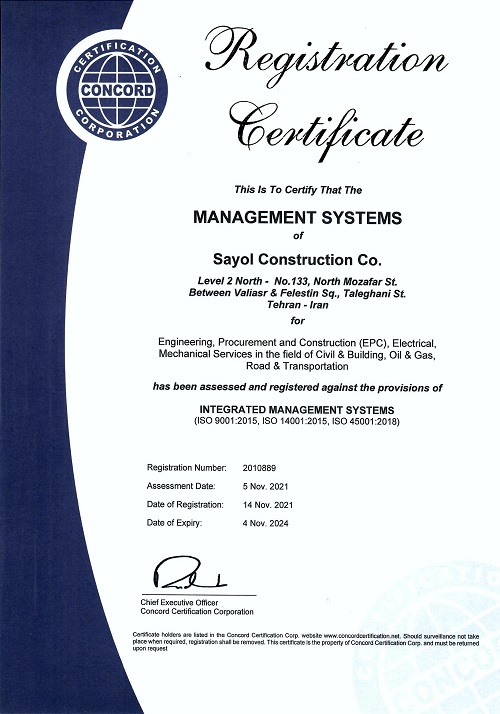 Deep belief in engineering approach, observing technical specifications and using the latest scientific achievements in planning, programming and executive quality control are among the goals of Sayol Company and it has implemented system of quality management based on standard of ISO: 9001 to achieve these principles in all levels and it is constantly committed to improve it and make it more effective. To achieve these ideas, following principles are essential:
-Building trust and increasing satisfaction level of clients by implementing projects in framework of time schedule and expected quality level.
-Increasing skill level of human resources with constant training and education.
-Supplying efficient machinery and equipment suitable for demands of the projects and operating them systematically, using modern methods of servicing and maintenance.
-Supplying and using proper materials suitable for needs of the project and quality level expected by clients
-Setting security and hygienic principles in the projects to deliver healthy work environment and sharp human resources and to protect environment.
-Constant improvement in efficiency of quality management system concerning necessary reviews, measuring quality goals and processes.
-Developing the culture of general cooperation toward quality to increase efficiency of activities and optimizing the cost.
-Recognizing and creating additional requirements in quality management system which the organization demands.
Procedures and targets of quality requirements in quality management system are defined, created and maintained in the organization and its performance is constantly checked and reported by the management representative for improvement of efficiency of the quality management system in the organization.
All members in Sayol are expected to accept content of this policy and commit themselves to implement it and assist the management representative with reviewing and reporting.
Efficiency and effectiveness of this policy and quality management system will be measured through review meetings in a specific time frame.